With the ever increasing rise in demand for data storage and retrieval requirements in both professional industry and at homes; external data storage devices have become a necessity, rather than a facility. The unpredictability and relative insecurity of internal memory storage in computers gave rise to a vast array of external storage options. Since the introduction of RAID (Redundant Array of Independent Disks), it has been a prevalent technique in data storage. It basically comprises of large collections of data on storage equipped to handle disk crashes with incorporated data protection features. These RAIDs, however, are quite complex to setup and then further maintain, and also require huge amounts of time to plan and setup.
If we take into account the storage options available to users right now, it can easily be seen that Network Attached Storage is one of the most popular storage options. And for good reason too. Drobo takes the best of both and puts it in BeyondRAID. These BeyondRAID powered, Drobo NAS devices offer reliable data protection of RAID and add in easy implementation and huge capacity augmentation options to further sweeten the deal. Today we are going to take a look at one of the latest offerings from Drobo, the Drobo 5N 5 bay NAS. Just how good is it? Let's take a look in our Drobo 5N review.
Drobo 5N Review – What's in the Box?
The Drobo 5N comes in a large box with the image of the product inside displayed on the front. The box also displays multi-lingual written information regarding the product and its specifics.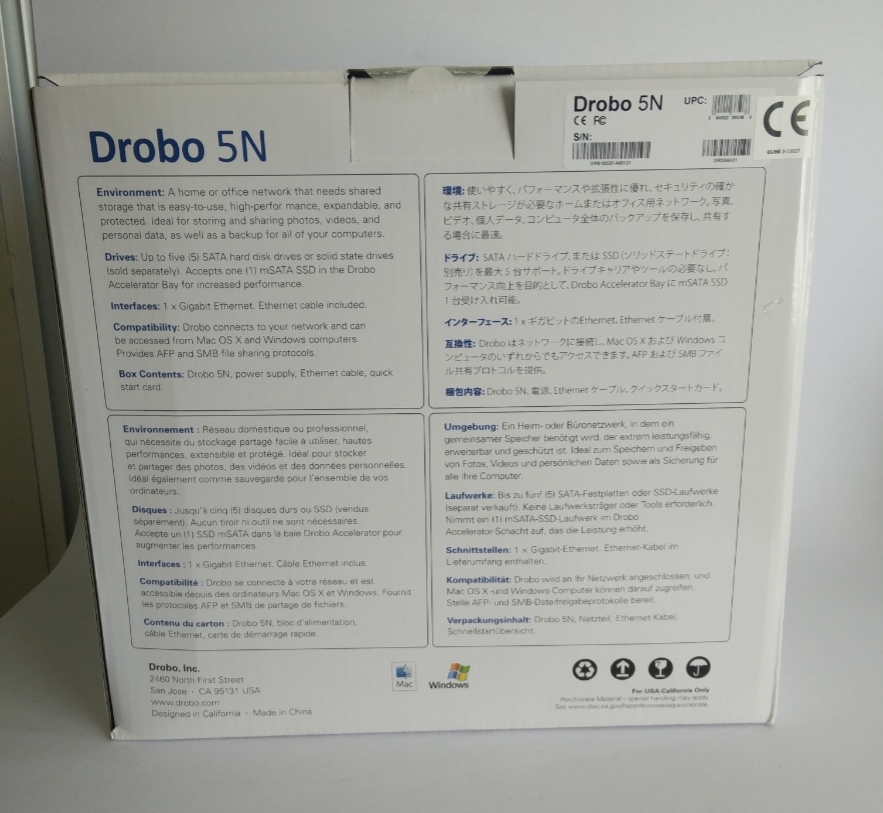 The Drobo 5N device itself is shrouded in a black carry on cloth bag and the additional items are tucked all nice and clean in a smaller white box. These include an Ethernet cable, a power cable and adapter and a quick start card.
When you receive your new Drobo 5N you can expect four distinct objects present in the box along with the Drobo 5N device
One Drobo 5N unit.
One 6 ft, which is approximately 1.8 meter, Ethernet cable
One 6 ft, which is approximately 1.8 meters long, power cord
One Quick Start Card
The Product
Drobo 5N – A Great 5 Bay NAS That Packs a Punch
I will start by saying that one of the best NAS devices available for domestic and small-end business owners is the Drobo 5N 5 Bay NAS. Drobo is one of the veteran companies in the manufacture of data storage devices and the 5N it is one of their best-rated products. Ideal for a home network, home office setting, or small scale office use, Drobo 5N is a great, safe, fast and easy to install and use Network Attached Storage device.
The Drobo 5N is available in a range of configuration options, all coming in at different price points:
The base unit costs $489
Drobo 5N with 2 x 1TB capacity costs $634
Drobo 5N with 3 x 2TB capacity costs $754
Drobo 5N with 5 x 2TB capacity costs $1,109
Drobo 5N with 5 x 3TB capacity costs $1,179
Drobo 5N with 5 x 4TB capacity costs $1,349
These are competitive prices by industry standards with a wide variety to choose from according to users' need.
In terms of product design the Drobo 5N by looks is essentially a big black box. The outside is black metal casing with a glossy black plastic detachable front panel. The panel removes to reveal the drive bays with the right side adorned with LEDs. The inside of the front panel has a sticker telling you what the colors of the LEDs signify.
Below the detachable panel, sits a horizontal line of 12 LEDs. These are the indicator LEDs. The first indicates the power, powered on is green, yellow is stand-by, and red indicates over heating of the NAS. The following ten LEDs indicate the storage capacity status and the last one indicates the data transfer activity status. LED brightness levels can be adjusted using Drobo Dashboard from your system.
Now on the backside of the Drobo device, all you will find is a grill like metal plate to accommodate ventilation, and in one bottom corner a single Ethernet cable port. The other bottom corner contains port for power cable and an on/off button. A big con when you have to drag the whole apparatus forward to reach the button each time.
Laying the device on its side and looking at its base you will find the Accelerator Bay concealed under a small hatch locked sliding cover, it can hold a 64GB to 120GB mSATA drive for added performance boost.
Removing the front cover reveals the drive bays and they use a clever tool free design. To insert a drive into one of the five drive bays simply push the drive into the drive bay slot. The plastic lid covering the bay has sprung door mechanism, it will slide up allowing the drive to be inserted and a small gray plastic tab present beside the bay will click forward to hold the drive securely in place. The bays can hold 3.5'' drives, but you can also use a 2.5'' drive with a bay converter.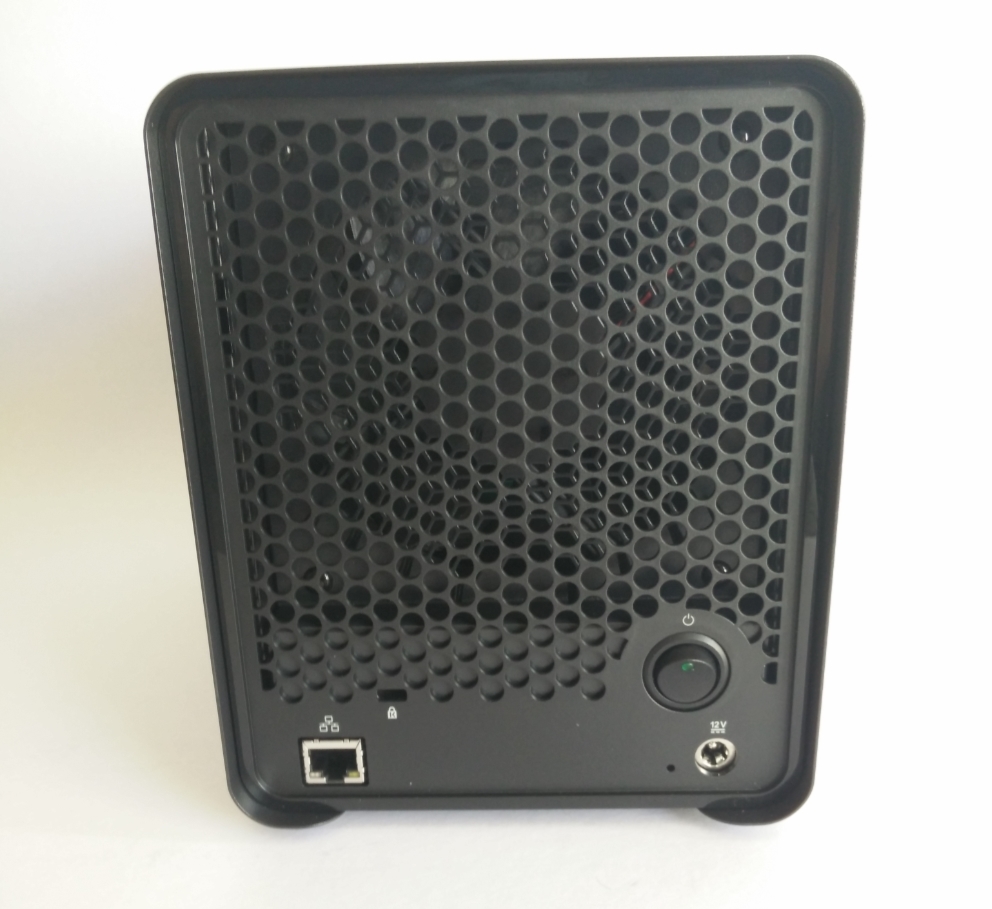 Now that we have some familiarity with the Drobo 5N, let us review the device more extensively.
Specifications
Connectivity
1 x Gigabit Ethernet port
Drives and Expansion
Up to five (5) 3.5″ SATA II/III hard disk drives or solid state drives
One (1) mSATA solid state drive in the Drobo Accelerator Bay for increased performance
Drives of any manufacturer, capacity, spindle speed, and/or cache can be used. No carriers or tools required
Expandable by adding drives or hot-swapping drives with larger ones
BeyondRAID Features
Thin Provisioning
Instant Expansion
Mixed Drive Size Utilization
Automatic Protection Levels
Single – or Dual-Disk Redundancy
Virtual Hot Spare
Data Aware
Drive Re-ordering
Management
Drive bay indicator lights, capacity gauge, status lights
Drobo Dashboard version 2.6 or later
Operating System Support
Mac OS X 10.9 and higher
Windows 10 32 and 64 bit
Windows 8/8.1 32 and 64 bit
Windows 7 32 and 64 bit
Network Protocols
Common Internet File System (CIFS) / Server Message Block (SMB)
Apple Filing Protocol (AFP)
Hardware Features
Carrier-less Drive Bays
Power Fail Protection
Kensington Lock Port for Security (lock not included)
Additional Software Features
Hot Data Caching
DroboApps
myDrobo compatible
Maximum System Capacity: 64TB
Drive Spin Down
Dim Lights
OS X Time Machine Support
Product Features
To put it in the simplest of terms, Drobo 5N is your handy data storage partner. It is one of the best-rated devices in small scale network storage settings by various users. A Drobo 5N comprises of a power efficient four-core Marvell Armada XP system-on-chip (SoC) processor. A 2GB Sk Hynix system memory supports the processor. The OS is Linux based and is built in a NAND IED Flash Memory DOM, this helps the fact that all the files needed to run a system do not require space on the storage array.
The device features five 3.5-inch bays, for five separate drives. These bays do not require any other form of carrier or support for drives to be mounted into the Drobo unit. A built-in tab keeps the drives secured, once they are slid into the unit.
A 1 GB I/O Ethernet port is placed on the back of Drobo 5N. The device is powered by a single power supply port, but it also features and internal battery. In the case of power failure, the internal battery serves to flushes the data in the storage system, to avoid any data loss.
The Drobo 5N also features a high speed I/O cached mSATA port. The data processing speed, however, is dependent on the data load; hence processing speed varies for varying workloads. In short, the device utilizes efficient Data-Aware Tiering using the solid-state drive.
Why You Need a Drobo 5N NAS
Now that we know the device features of our Drobo 5N, let's go over the reasons you will find this device a perfect match for your storage needs.
Storage Capacity Options
The feature that makes Drobo 5N a user favorite is its viable storage capacity options. You can use any variety of Terabyte capacity options available, to meet your needs. Choose all the same Tb capacities or a combination capacities for each of the 5 bays present to a maximum total capacity of 64TB.
Ease of Use
Setting up a network attached storage using Drobo 5N is quite easy. The device itself takes care of all the hard parts of the job itself. It is possibly one of the easiest to set-up and install network storage options available in the market right now, even for those who have little to none prior experience with network-based storage devices. Simply follow the online setup guide over at the Drobo website and it will guide you through the entire process.
Efficient Device Support
Drobo provides efficient technical support to its consumers around the clock. The professional helpline operators can be reached anytime via telephone or online. Also, the warranty provided along with, migration support, rescue kits and the advanced hardware goes a long way.
Capacity and Performance Rates
The Drobo 5N bays, give you the functionality to work with both high-capacity HDDs, as well as high-performance SDDs. All the while reserving a separate accelerator bay for an industry standard mSATA SSD for maximum capacity and processing speed.
Drobo Apps
Drobo developers offer various apps sourced from reliable vendors and solution providers, thereby enhancing its consumer's network storage experience. Using myDrobo Apps, the Drobo 5N allows further extensions in the functionalities provided in network storage.
Centralization of Data and Backup
Centralizing data in an office space is a vital task. Drobo 5N provides the most effective and safe network backup solution for all the Windows and Apple devices in an office. Backing up data has never been easier, using the Drobo Dashboard, back up your data with just a single click. While by default, backup is created in 1 drive, it can be changed and 2 drives can be reserved for this purpose. It takes just hours to create backup, where it used to take days to do it before.
Power Failure Protection
A crashed drive, with all the valuable data gone in a jiffy, is ones' worst nightmare. With a built-in battery, Drobo 5N ensure you are protected not just against drive crashes, but also any abrupt power failures. In the case of a power breakdown, Drobo remains operative long enough to store all the precious data into the storage.
The Drobo 5N is a Piece of Cake to Setup
Setting up a Drobo 5N device is quite straightforward. Supporting both Microsoft Windows and Apple platforms, the device can handle a network of 10 to 20 computers placed in a network together at the same time to share, store and create a secure backup of data.
Incidentally, migrating from an old Drobo to a new Drobo 5N is only possible if the older device is a Drobo FS.
The setup process of the Drobo 5N is very straight forward:
Step 1
In order to migrate to a newer version without any error, the older device must have all bay lights turned to green. Ensure that the complete old data is reachable and the device is operating on the latest firmware. If any one of the conditions is not met, it is advised to contact the Drobo support center for further assistance.
Step 2
Once the older Drobo's is ready you can move forward with installing your new Drobo5N.
Step 3
Make sure your older Drobo is powered off, then remove the front face of the device and take out all the drives from it.
Step 4
In the new powered off Drobo 5N, insert all the required drives with the label side up. These are no additional support required to hold the drives in the device.
Step 5
Connect the Drobo to your network router using an Ethernet cable via the port located in the back of the device, ensuring that the Drobo and your computer system are one subnet.
Step 6
Connect the power cable, via the port located also in the back of the device; and turn the Drobo 5N on. The Drobo will blink blue and yellow lights to indicate it is powered on.
Step 7
On your computer system install Drobo Dashboard and create a Drobo Support Account. Initialize the Drobo software. The latest firmware will be downloaded automatically via the internet connection and installed.
Once the installation is completed, the lights on Drobo 5N drive bays will go green. The Drobo is now ready to be used.
The Drobo Dashboard – The Heart of the Operations
The Drobo Dashboard, which is essentially the NAS operating system, is quite easy to navigate through. Information about the drives currently residing in the bays can be viewed here via the animated graphic display.
A large animated image of Drobo 5N with its front panel removed to reveal the drive bays can be seen on the Dashboard. This image replicates everything that is happening to your Drobo behind the scenes.
In the settings menu, you will find options to control the users and data sharing options on the network. The Tools page provides you with the options to manage the Drobo itself. Shut Down, Restart, Rest Drobo and Firmware Installation and Update actions can be done from the Tools page.
You are able to create network shares and create user accounts with various access permissions, giving you full control over who can access what.
You are able to update the firmware version of the Drobo 5N automatically using the firmware update tool located on the dashboard. Alternatively you have the option to manually update the NAS.
One of the best features of the Drobo operating system is that you can expand it with myDrobo Apps.The myDrobo applications can be reached from the dashboard as well. The apps supported by Drobo 5N are quite competitive with other NAS devices.
myDrobo Apps Allows You to Expand NAS Functionality
Drobo provides its customers an enviable variety of apps to facilitate a vast number of functionalities. The Drobo Apps aim to simplify the use of network storage each step of the way. The most prominent myDrobo Apps include the following:
DroboPix iOS app
A treat for the iPhone and iPad users, the DroboPix iOS app enables its users to routinely upload any photos or videos from their mobile device to the network storage without manual prompting each time.
DroboAccess
The DroboAccess app provides all the users of a network safe and secure access to the data on the Network Storage Drobo from virtually anywhere. By using a web browser or a mobile device, authorized personnel can access their Drobo anytime.
KOKEN
Koken is the Drobo resident photo library app. It facilitates its users to manage and publish their art on the internet.
WordPress
WordPress is the Drobo resident open source blogging and website creation app. With its wide following and usage, it is one of the most significant additions to the myDrobo platform.
BitTorrent Sync
Bit Torrent Sync can be used on Drobo Network for private data sharing in groups or with specific users. The singular feature of this app is that files can be shared between devices, without using the cloud.
FireFly
With this open-source media server, you can stream music library to Roku SoundBridge, iTunes, or to any other client that is Digital Audio Access Protocol capable.
MiniDLNA
The MiniDLNA Server software is a new addition in Drobo apps; it accommodates DLNA/UPnP clients, and facilities access to a world of entertainment, music, photographs, and video files for all the clients on the network.
Plex
The Plex home media playback system which enables its user to stream music, videos or photographs to other devices that are network capable and connected.
Aria 2
Aria 2 is a user favorite download utility that can support torrents like FTP, BitTorrent, and Metalink. It is a multi-protocol and multi-source utility.
Couch Potato
Like the label tells you, this app the Couch Potato apps allows the Drobo users on the network to automatically download movies. It is an ideal Personal Video Recording (PVR) app for Usenets and Torrents.
Headphones
Like Couch Potato is the fix for your all your Video needs, Headphones is the go-to app for your music downloading via SABnzbd to access Usenets.
NZBget
This is the proffered Usenet client.  NZBget is specially intended for high-performance results, with maximum download speeds, without taxing the system resources at its disposal.
SABnzbd
The cross-platform open-source downloader facilitates its users by ensuring maximum download speeds while using minimum system resources.
Sick Beard
Sick Beard is the undisputed king of all automatic media downloaders. Drobo users can enjoy this Personal Video Recorder app to download and manages TV shows optimized for work along the SABnzbd app.
Transmission
Drobo provides the BitTorrent support client with the Transmission app. This easy, user interface client is free of cost too.
CrashPlan
As an additional option for data backup, CrashPlan reserves the data, on the storage, remotely as well as on the cloud.
ElephantDrive
Further backed up by Drobo Services, Elephant app is a periodic automatic backup created for safeguarding your data on the cloud.
ownCloud
Using the owners' cloud account, the ownCloud app can be used for syncing the files with backup as well as to provide easy remote access to the files.
Pydio
Pydio is one of the Drobo's open source software. It facilitates it's users by converting any server into a data distribution platform.
Modoboa Mailserver
The Modoboa Mailserver DroboApp is a platform that contains many services. It is an amazing online mail hosting platform to maintain domains, mailboxes, aliases and much more.
NFS
This client-server platform is indispensable for offices' networking support. The Network File System (NFS) lets its users look at as well as optionally save and update data files on any other remote systems.
ProFTPD
ProFTPD is the FTP server software. This highly functional and easily configurable and secure server app is compatible with Unix-like operating systems like Linux, Mini, AIX and Microsoft Windows.
System Applications for Drobo 5N
DroboApps provide more comprehensive System applications for advanced users, which include basic services and libraries. Below is a listing of all the System Software Applications that the Drobo 5N is compatible with. These applications may be less wanted by a layman Drobo user, but for users with advanced networking and programming know-how and requirements, these apps are crucial additions.
Apache; the most used web server software is freely available for DroboApp.
Java; an object oriented, computer programming language
Locale; this app is for location-aware programs, it facilitates accurate show of currencies, time & date presentations, in addition to all the relevant local standards.
Mono; it is the software platform that helps the Drobo users to develop cross-platform apps.
MySQL; without a doubt the world's most commonly used open source database.
js; the JavaScript runtime made by the Chrome's V8 JavaScript engine.
Perl; the most commonly used programming language to develop web based applications.
Python; the computer programming language usually employed for efficiently assimilate systems.
Ruby; an interpreter based, object oriented language.
The System Utilities Provided on DroboApps
The Power User or administrators, software engineers and developers, as well as IT techs can take full advantage of DroboApps dedicated to system utilities. The System Utilities provided by DroboApps include;
7-Zip
Bash
Dropbear
Git
MC
Nano
QuickPar
Screen
SVN
File Transfer
Using the Drobo 5N 5 Bay NAS we tested the file transfer speeds for a 2GB movie file from a PC on the same network to the NAS over a Gigabit Ethernet connection:
File Copy to NAS: 52.7MB/S
File Copy from NAS: 96.3MB/s
I found the transfer speeds to be more than acceptable when transferring files, much quicker than my older QNAP TS-410.
The Drobo 5N and Media Players
The Drobo 5N is a great companion to any media player you may have that supports network shares. It is a great way to store your local media content such as movies, TV shows and photos and enjoy them on the big screen. The setup requirements is very simple, you only require a media player that supports local media playback and you can connect to the network share.
My go to piece of software on my media players is Kodi. Kodi is in my opinion the best media center available thank to its great interface, ease of use and amazing file support. Kodi does all trans-coding on the software end meaning that your NAS does not need to work as hard as it would have to if it was done via hardware. Setting up Kodi to work with the Drobo 5N is very simple and is just a matter of setting is as a video source from within the videos menu in Kodi.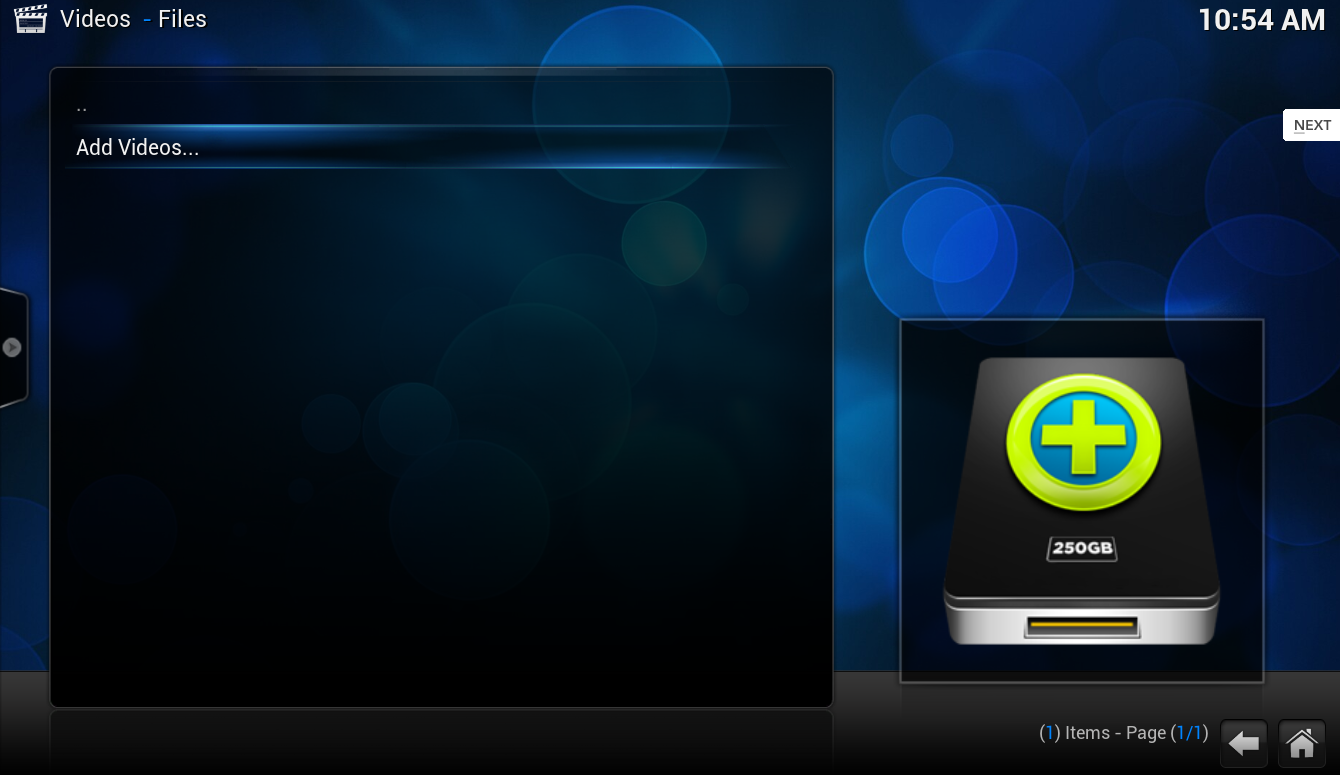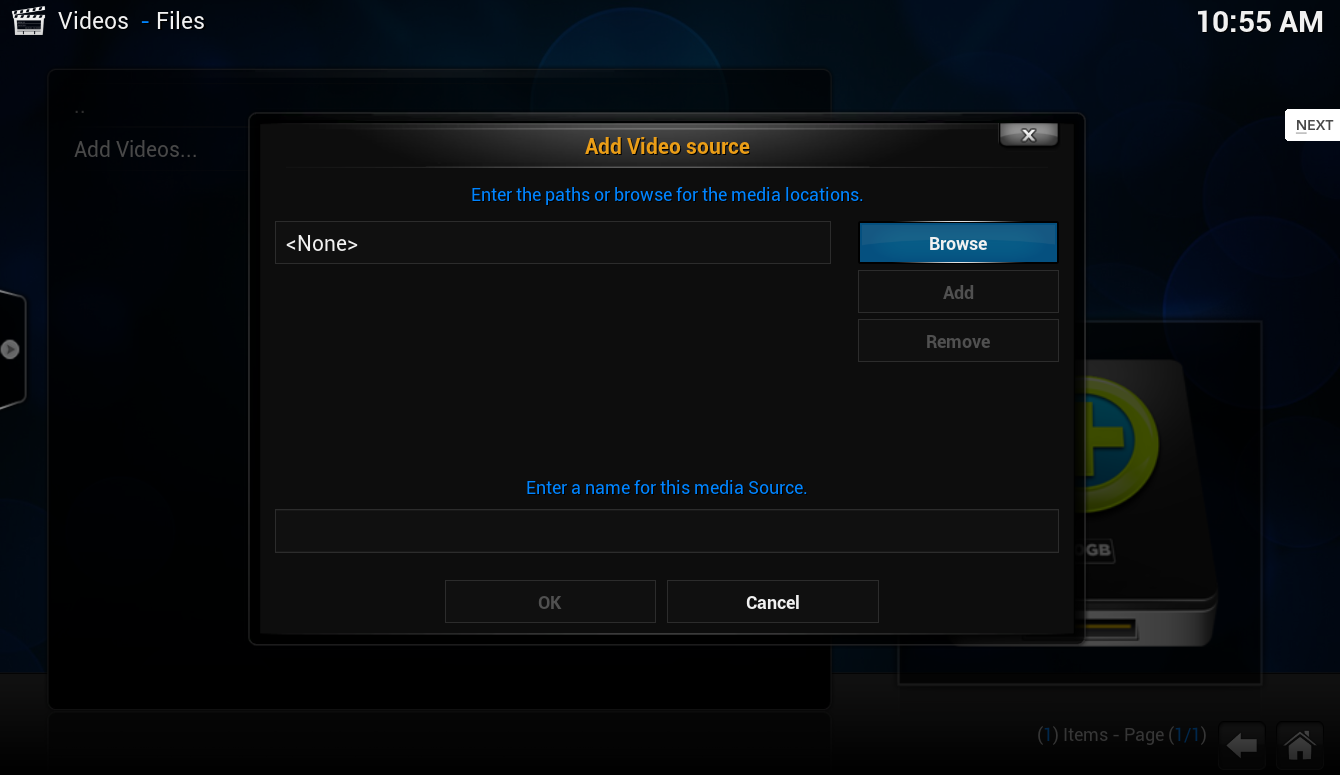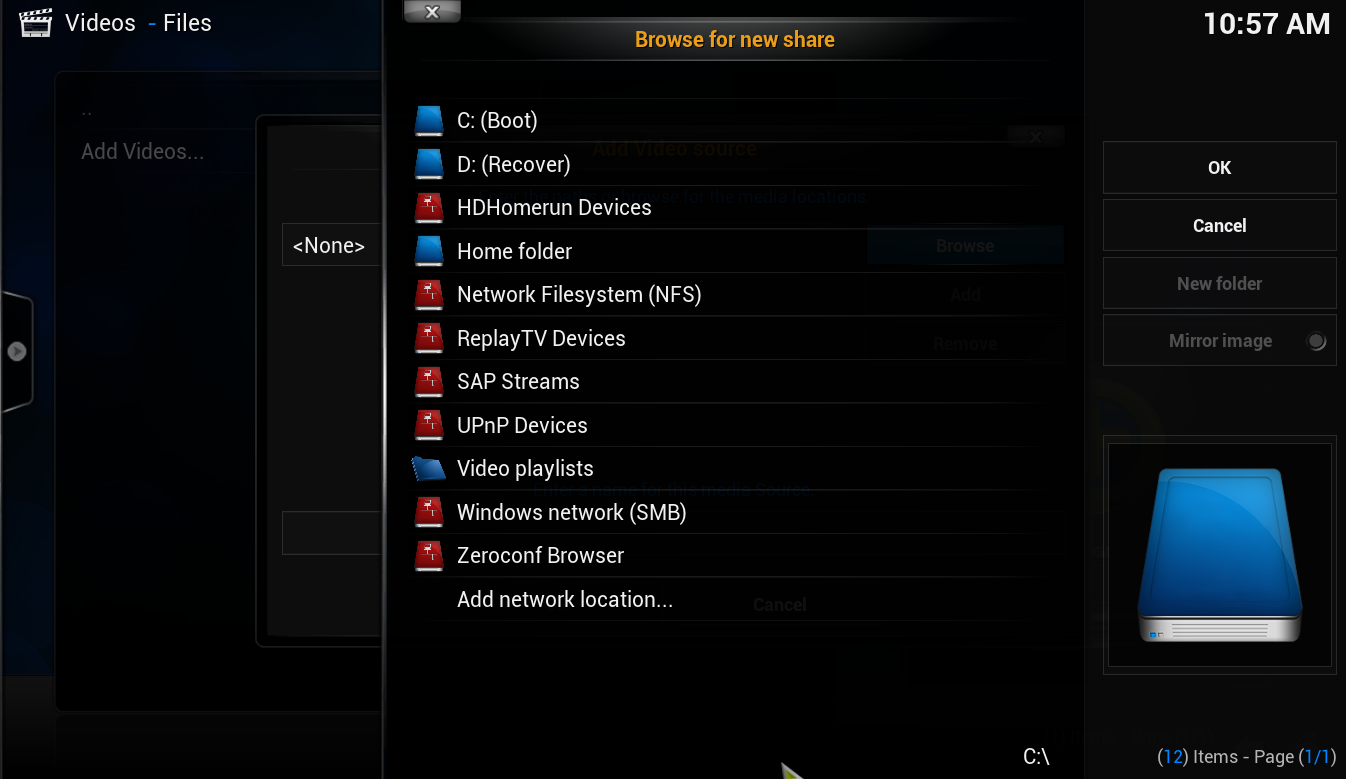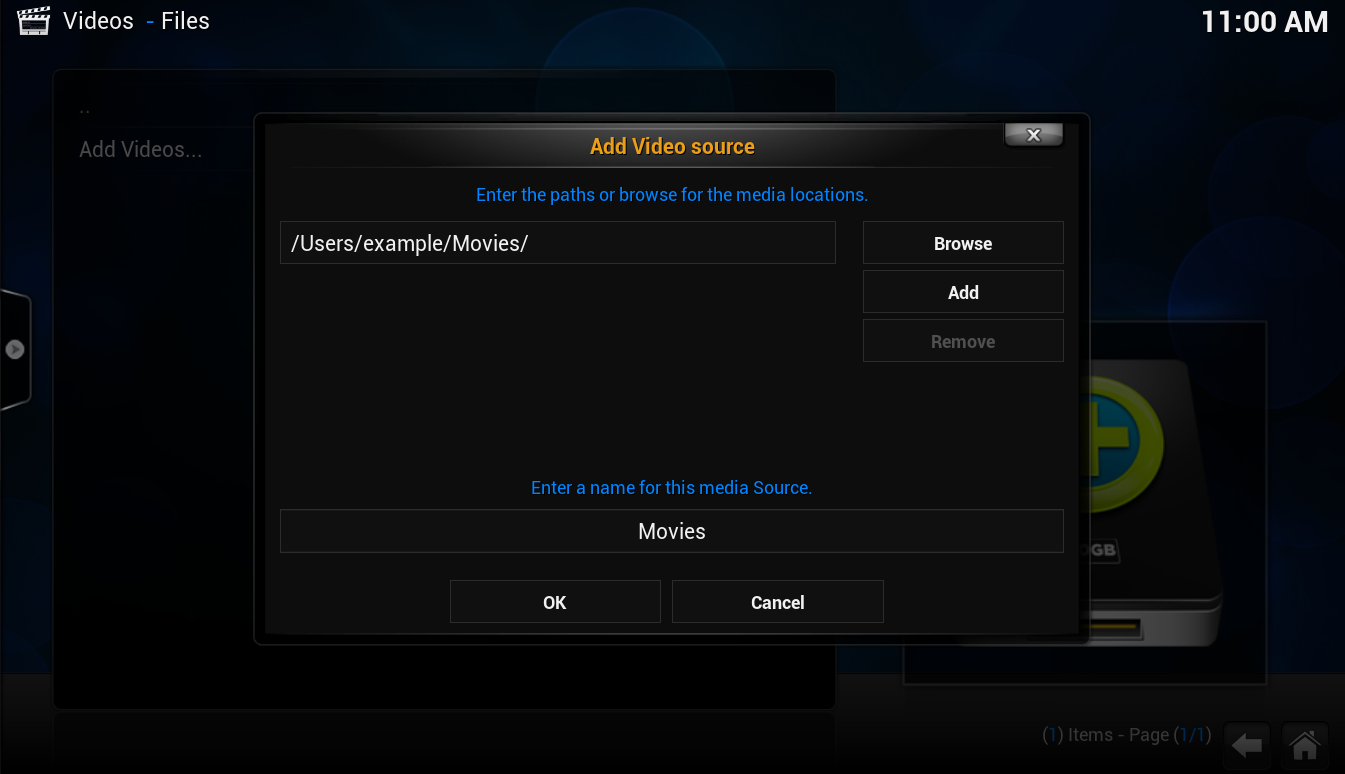 Conslusion
The Drobo 5N has a definite advantage over its predecessor, the Drobo FS. The first most noticeable difference between the two is the much faster processing speed. The Drobo 5N provides very efficient capacity management, turning what was once a complex task into a matter of simply adding a new drive in an empty bay, or swapping the lowest capacity drive with a new high capacity drive. The Drobo software itself takes care of the data integration with just a few hours. While in some cases it takes a while to complete its setup etc. it shows great processing speed time. The addition of mSATA cache drive is very convenient and saved drive bars while giving an optimal performance boost.
Where to Buy
If you are interested in purchasing the best universal remote control on the market you can head on over to the Drobo website and find your closest retailer.
The Drobo 5N is an impressive piece of kit that is available in a range of configuration options to suit everyones needs. The price may be a little higher than that of other brands however the quality of the NAS build and the added features make the Drobo 5N worthy of people considerations when purchasing a NAS. I certainly have no issues recommending the Drobo 5N as a worthy competitor for a spot in your network at home.